Locking your devices
When you lock your computer, you keep your information safe. When you return to your device and log in again, you can pick up right where you left off.
Windows PC or Laptop
Use windows button and L:


When locking your device, this ensures that another user can access the PC for their purposes without causing conflict between any user accounts. -Google- Using Chrome with Multiple Accounts- select

then select Switch account as illustrated.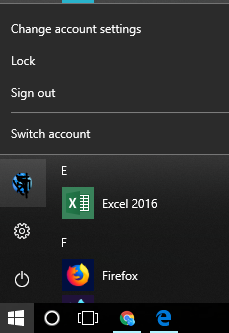 Multiple users can be logged into the PC and keep desktop work spaces uninterrupted.
Chromebook
Option 1: Hold the power button

until the screen flashes and the login screen appears.
Option 2: Click the padlock icon

in the status area menu. Or on the Chromebook keyboard hold the Lock key until the device locks.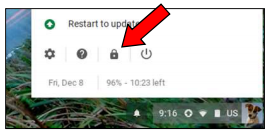 Macbook
*Note: You must enable a login password.
Enable a Login Password: Go to System Preferences > Security & Privacy. Click the lock to make changes. Check the box for Require Password after sleep or screen saver begins. In the drop-down
menu, you can set timing of the password, from immediately to up to 8 hours.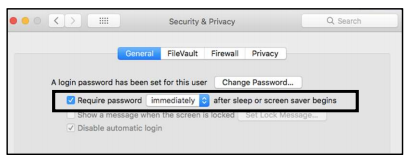 Option 1: Close the lid and wait the indicated time.
Option 2: Click the Apple icon

in the upper-left corner and choose Sleep.
Option 3: Use Control and Shift and Power to lock your MacBook.


Option 4: Use Control and Option and Power to put your MacBook to sleep.

iPad
Enable a Login Passcode: Go to Settings > Passcode. Touch Turn Passcode On. Touch Require Passcode; you can set timing of the password, from immediately to up to 4 hours. Push power button.