Also for staff visit Our Digital Integration Support Page
Using a personal Chromebook? See here how to add an account to your Chromebook.
Many calls to help desk relate to knowing how to use the browser. Boise School District builds and designs our systems to function most efficiently and effectively using Googles Browser Chrome. Boise Schools also utilized MyApps which is a launching page for accounts set up for student and staff access.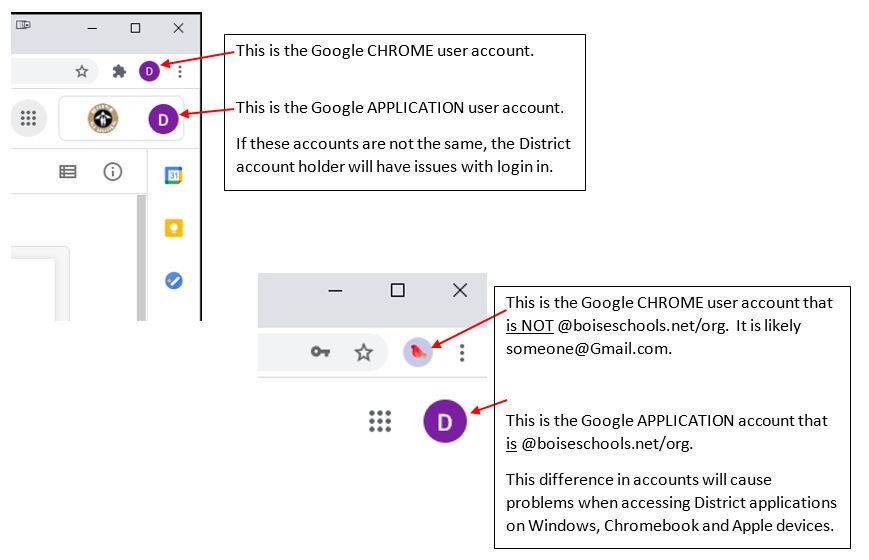 MyApps and Google both have functionality to save passwords and usernames for convenience. This can cause conflict between your own and other users and/or when changes are made to login credentials. For best support to systems we encourage all @Boiseschools.org and all @Boiesschools.net accounts to use Google Chrome browser. Here is an excerpt from a Google Chrome Browser Training to assist you in identifying how to identify and manage multiple Google accounts on your devices.
2.1 Identify which account you're in
If you have several Google accounts, like personal Gmail accounts (@gmail.com) and a G Suite education account (@boiseschools.org/net), you can easily identify and manage your accounts.
Go to google.com.

If you're signed in to your browser, at the top right, you'll see an icon with your initial or profile photo.
If you're not signed in to an account, you'll see Sign in.

Hover over or click your profile photo or initial. You'll see the email account that you're signed in with:

If the email address ends in @gmail.com, you're logged in with your personal Google account.
If the email address ends in your domain address (@boiseschools.org or @boiseschools.net), you're signed into your G Suite account.
If you chose a different icon for each of your Google accounts, the icon can help you identify which account you're using.
2.2 Create Chrome Browser profiles
Creating different Chrome profiles lets you switch between your work account and your other Google accounts, such as personal or test accounts, without signing out each time.
Add a Chrome profile:
In Chrome Browser, at the top right, click Profile

(Or your Set BSD profile pic)

.
Click Manage people.
Click Add person.
Choose a name and a photo.
Click Save. A new window will open and ask you to turn on sync.
(Optional) Turn sync on in Chrome with a Google Account for the new profile. Their profile photo, bookmarks, history, passwords, and other settings will automatically sync.
Switch to another profile:
In the top-right corner, click your profile icon.
Click the profile you want to switch to.
Remove a profile:
If you remove a profile from Chrome Browser, your profile bookmarks, history, passwords, and other settings are removed from your computer.
At the top right, click More Settings.
In the People section, click Manage other people and hover over the person you want to remove.
Click More Remove this person.
Click Remove this person again to confirm.
Being aware of which Google account/profile you are using will help you streamline your Boise Schools systems access.
Last notes on managing Google users relating to your Boise Schools Google Account.
Although convenient, saving login credentials in Google Chrome can lead to security risk to your accounts and conflict using MyApps and the password locker, which also saves login credentials. Make certain you are aware of what is being saved.
To check Chrome saved credentials: While in Chrome at the top right of the screen, click the round profile button that identifies your user account for Chrome, it may be an initial or a pic if you have set it up. Keep in mind this is NOT the profile pic in your gmail page.
Updated PIC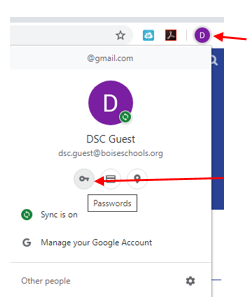 Remove any saved passwords for the system, application or site connected where you are having trouble accessing. See password: To the right of the website, click Show password Preview which is the:
requiring a password.
The password required is your DEVICE password (while at work the desktop),
Click OK, for a short duration management can begin!
Remove password: To the right click on the 3 vertical dots,
Remove.
Using your MyApps page alleviates having Chrome collect passwords and eliminates log in conflict and issues. See our article Adding an app to MyApps and Update Login for an App in MyApps. Security matters more than ever. Protect your credentials, protect your accounts, and your devices, and be careful out there!
Reset a Chromebook & Device Enrollment Instructions- Parents