Groups have been available for staff to create as desired, however, due to THOUSANDS of groups in the District not used or maintained, the Groups resource will be unavailable for staff to create additional Groups. Current Groups are still available and Owners still have edit access. To reduce the load on this resource we invite staff to use District Google App Contacts for personal distribution list. The following guide you in using Google Contacts.
Reminder: Established School Groups and owner permissions still exist, i.e. each school site has a group.
If you need a Group created while we are clearing up the Groups resource enter a help ticket and include the name you want for the Group.
Creating a Personal Distribution List
Create/Name a Label in your Google Contacts App
Then select the contacts you want in your Label/Distribution List. Select contacts from either Contacts, Frequently Contacted, or the District Directory-(@boiseschools.org -District Maintained).
Navigate to your contacts app or go to: contacts.google.com
Click the More drop-down menu and select Export.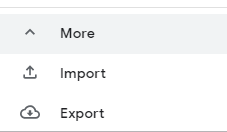 Choose whether to backup specific groups or all your contacts.
Export to Google CSV format and click Ok.
Save the file to a secure location.
This is a back up, and also a way to share your Distribution list with others.
Note: When sharing Lists, the recipient has a 'snap shot' of your shared list updates are made individually.
See other District Google App help here> Digital Integration Support