Print Student QuickCards for logging into MyApps
1. Open or sign into: myapps.boiseschools.org and Click on the "Class QuickCards" icon

2. Select the course (Homeroom in most instances) then click "Generate QuickCard" if it is the first time
time printing for a student, or if there is not a checkbox on the row of the student name.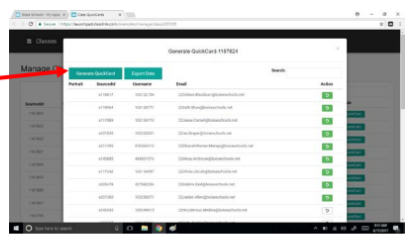 3. You can then select the checkbox on the row that will appear then select the green "Print" button at the top of the screen to print the an individual or entire section of students,

4. If the student is newly enrolled, their name may not appear. Login as the student by typing the credentials on any device. Open MyApps, click on the profile "icon" at the top right of the window, select "My Profile"

5. Go to Sign-in options and choose QuickCard, Connect, Print
The Quick Card will now generate in your teacher Class QuickCards as well as print for
immediate use.