Parent activation code for a new account:
The Boise School District updates student information via the parent portal account. So that you can access your student's grades, fees and attendance through the Infinite Campus Parent Portal, please activate your Parent portal. The portal can be accessed via computer (much easier to read) or mobile device.
To get the activation code email: campus@boiseschools.org Note- New parents whom have not activated their Infinite Campus Parent Portal accounts will get an email monthly with a code so they can set up there accounts.
You will be sent a unique URL can only be clicked ONE time and is ONLY active for 10 days. If the URL link has expired, reply to the email sent to you to request a new link.
A reminder email will be sent monthly to parents who have not yet activated their parent accounts. For security reasons, this unique URL can only be clicked ONE time and is ONLY active for 10 days.
OR - go to the site and select New user, then call your students school site directly for the Parent Activation code, this is a 16 digit code the parent enters when creating their account.
After your account is created, please go to the parent portal login on the Boise School District website or you can download the Mobile App: https://www.infinitecampus.com/audience/parents-students.

Boise School District has produced a step-by-step tutorial to show you how to obtain student information (i.e. student report card) of your child's enrollment in the Boise School District. Review that tutorial here.
IC Parent Portal password reset
We have just enabled the Password Reset feature in Infinite Campus for Parent Portal accounts. Now Parents can reset their passwords by clicking either on Forgot Password? or Forgot Username? under the Log In button as pictured below.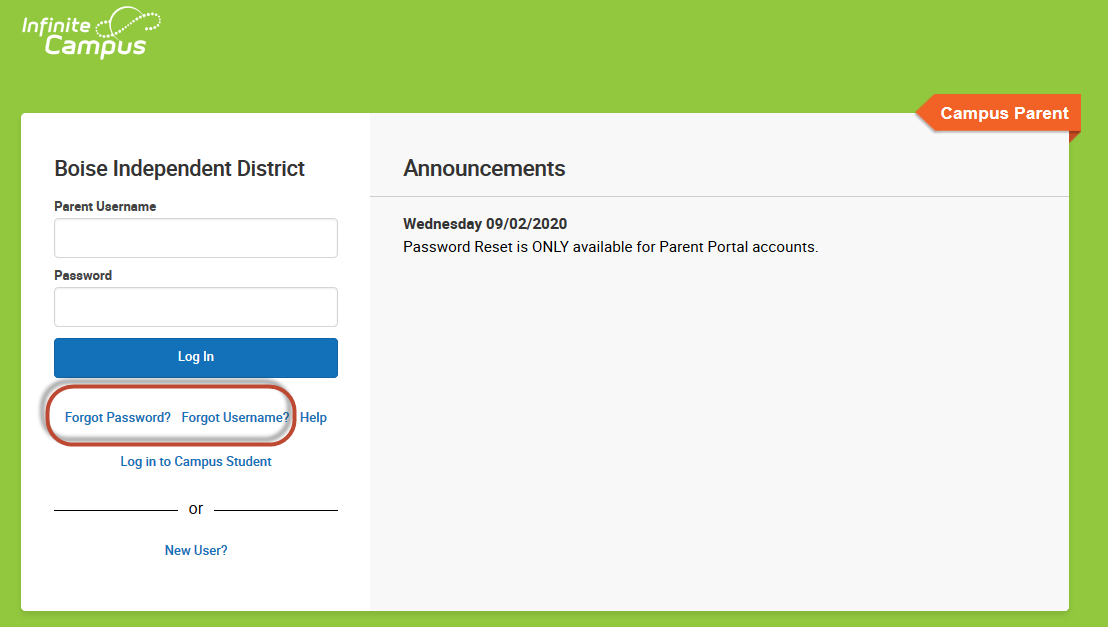 Parents, you are always invited contact your child's school if you ever have trouble with your Parent Portal account. This offering includes the self serve ability to reset your password and security email at anytime, and while logged into your account follow these steps to manage your account:
Select your account profile icon

Select settings

Select Account Settings
Manage your security email and password
For Parents who need assistance with accessing the portal account, and have not listed a security email, please contact the school to reset your password.
After you enter the temporary password, you may be prompted to customize the password. This is the password screen that will display if the school sets the password to be customized (The Old Password is the current - temporary password.)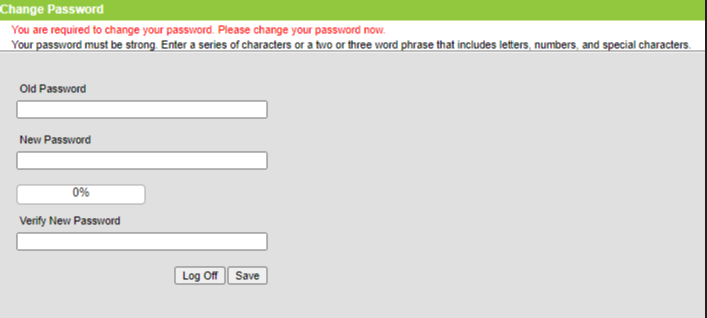 Parent will then be presented with the opportunity to enter a security email for future account management. This is what the screen looks like: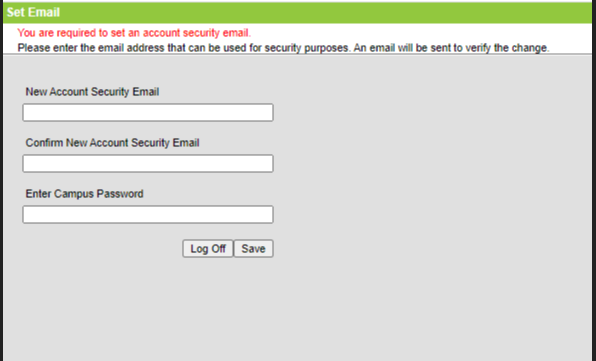 The system will prepare the account for self service once you press Save.
For other questions or concerns relating to information within your Parent Portal account please contact your student's school.