If your District device is damaged (e.g. broken screen, keyboard, water damage) or lost/stolen, please contact your student's home school to coordinate an exchange.
For all other issues, please review the following troubleshooting steps before submitting a support request for the District device.
If you have tried all the troubleshooting options below and are unable to resolve the device issue, please see the "Submit a request" link in the top right corner of our knowledge base pages to submit a support request, or leave a message at our support desk at 208 854-6670.
See the following sections to troubleshoot in succession:
Hardware/OS or Hard Reset: This resets the hardware:
Keyboard
Touchpad
Speakers
Microphone etc.
While logged in, hold the keys; Ctrl+Reload+Power, this will reboot the device and the hardware, the device should now function normally.

If the Chromebook is powered off, Press and hold Reload + tap Power, when the Chromebook starts up, release the Reload key and the device should now function normally.
Browser Reset: Resets the Chrome browser, (Does NOT remove browsing DATA, click here to clean up data).
Default search engine

Homepage & tabs

The new tab page

Content settings

Cookies & Site data

Extensions & Themes
To reset these items:
On the device, open Chrome
At the top right, click More Settings
At the bottom, click Advanced
Click Reset and clean up
Click Restore settings to their original defaults
Uncheck the box reading 'Help make Chrome better by reporting the current settings'
Click Reset settings
Power-Washing/Factory Reset: Resets the device back to factory Setting.
Turn on the Chromebook
Press and hold Esc + Reload + Power keys at the same time. (This will reboot the Chromebook into recovery mode.)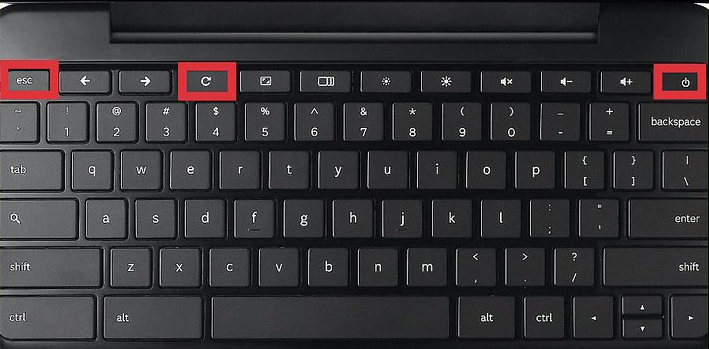 At the recovery mode screen, press Ctrl + D (turns off OS Verification)
Press Enter, Chromebook will reboot (prompt to re-enable OS Verification)
Press Space to re-enable OS verification, then press Enter (This will cause all local data to be wiped and restored to factory settings.)

Upon automatic reboot, you will be prompted with a "Welcome!" screen. Press "Let's go"

At home users Enter your wireless information. (if you are using a District hot spot enter the hot spot credentials.)
At school users, Select BSD-Guest wireless.

Press and hold Ctrl + E (you will not see a change)

Click Accept and continue
Click "Done" after enrollment is complete. If you see a white background, this will be updated after a reboot.
Note: If you have a login screen with @boiseschools.org pre-filled in the user name box - request assistance from the District Help Desk 208-854-6670.
If there are still connection issues here are a few things that can be checked at home:
Home DSL or Cable Internet
If the DSL or Cable modem is in the same room as the student, 5G connections work great. If it's in another room, use the 2G. For example in the list of available Wi-Fi you may see something like CenturyLink5161-5G and CenturyLink5161-2G. 5G does not go around corners or through walls as well as 2G, which does much better at permeating walls and turning corners.

If the students are getting kicked from meets daily, it is very possible it could be related to the home internet connection. When a student Chromebook internet connection drops even briefly, Google Meets sees that the same way it would if the instructor removed the student from the class and it will not let the Chromebook rejoin the meeting without a new invite. If a student leaves a meet, they can come back.
Because the student Chromebook must be re-invited, it may be a connection problem. Confirm with the instructor.
Older DSL cabling in neighborhoods can have issues especially if there is rain or melting snow on the ground, this is particularly evident around Fairmont Junior High School.

If the household internet is on a lower DSL or Cable internet level, for example 20mbps or lower, we suggest not using other devices for streaming content such as, TV services/movies, YouTube etc. at the same time as student Google Meets to reduce interruption.

To troubleshoot: Connect to a different wireless source such as a cell phone hot spot, if using a District hotspot, try the home internet, if available try a friends/family internet, a new connection temporarily while you are testing connection. If the District Chromebook connects to another device try resetting the current connection you are using. If the student is using a District hotspot and is able to connect to an alternate/temporary internet connection try resetting the District Hotspot click here for steps.

Boise School District T-Mobile Hotspots
The icon which shows 4 vertical bars represents cellular signal, the icon shaped more like a baseball field represents WiFi. If less than 4 bars of cellular strength showing on the hotspot, try moving the hotspot to a window or another location where it may get a better signal. Keep the Mobile Hotspot within about 10 feet of the laptop. The hotspots are designed to have on the table in front of you, connectivity weakens the further away the hotspot is from the device using the WiFi.

As a last resort, contact your student Home School Site, if enrolled at Boise Online School contact the school site in your student would attend or is enrolled via Boise Online School. The District has ordered additional hotspots but do not currently have stock.
See also how to clear Google account Chrome browser data