Locking your devices
When you lock your computer, you keep your information safe. When you return to your device and log in again, you can pick up right where you left off.
Windows PC or Laptop
Use windows button and L:





Chromebook
Option 1: Hold the power button 

until the screen flashes and the login screen appears.
Option 2: Click the padlock icon 

in the status area menu.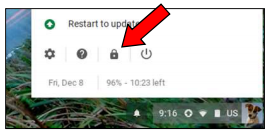 Macbook
*Note: You must enable a login password.
Enable a Login Password: Go to System Preferences > Security & Privacy. Click the lock to make changes. Check the box for Require Password after sleep or screen saver begins. In the drop-down
menu, you can set timing of the password, from immediately to up to 8 hours.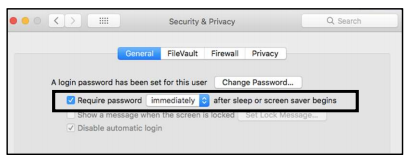 Option 1: Close the lid and wait the indicated time.
Option 2: Click the Apple icon 

in the upper-left corner and choose Sleep.

Option 3: Use Control and Shift and Power to lock your MacBook.
               

Option 4: Use Control and Option and Power to put your MacBook to sleep.



iPad
Enable a Login Passcode: Go to Settings > Passcode. Touch Turn Passcode On. Touch Require Passcode; you can set timing of the password, from immediately to up to 4 hours. Push power button.

 A big thank you to Tricia Branahl for putting this document together and sharing it with the District!
If you need further assistance contact help desk online, support.boiseschools.org  or email, [email protected],  or call 208-854-6670.
Let us know how you like this article in the comments below!