Applicable to staff and students.
If you want to access your District Google content after separation follow these steps: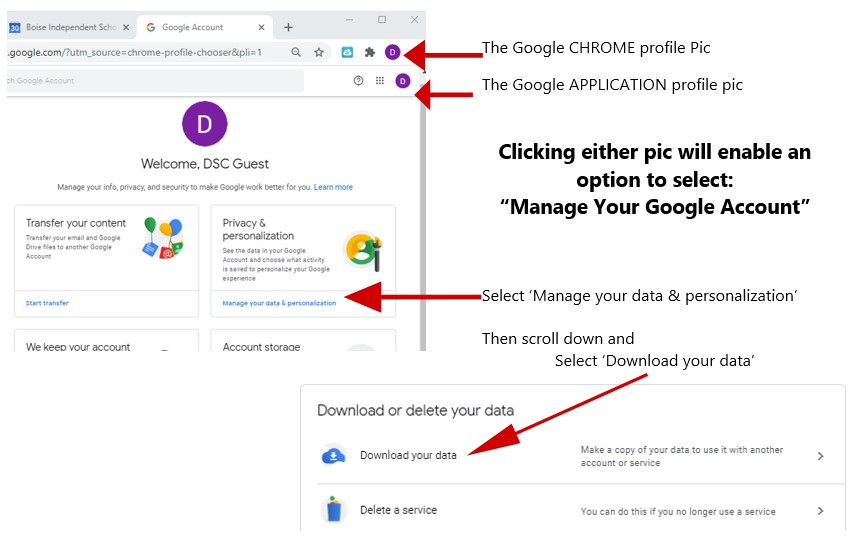 Also note, if you have accounts that refer to your BSD@boiseschools.org, account please contact that resource and update your email contact information. For example students may need access to FSAFA information after they have left Boise Schools and their account has been deleted, or staff may leave employment and have used Boise Schools account to save YouTube vids.
Another method of how to move files between Google Drive accounts, without manually downloading and re-uploading them.
Log into your personal/work Google Drive account

.
Open the file you wish to transfer

to your personal/work account and

click on the

Share

button

(top right corner). A pop up like the one below will appear.
Type in personal/work email address and

set the permissions to

Editor

.
Click

Send

.

Log into your personal/work Google Drive account and

go to the

Shared with me

tab.
Find the file you've just shared from your personal/work account and

continue to edit it from your personal/work account or make a copy (File > Make a copy) to save it anywhere in your Google Drive account for personal/work

.
Please note BSD Google Workspace administrator can impose sharing restrictions which prevent opening files shared from personal Google accounts. Enter a help ticket if you encounter issues following the steps above.
Also, see this article on How long your District accounts are accessible after separation. (viewable by logged in staff only)